Lead Testing
What Is Lead Poisoning?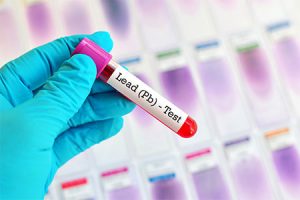 At Advantage Environmental Inc, in Vancouver and Portland, we understand that lead poisoning is serious and potentially fatal. Lead is a naturally occurring metal found in the earth and was mainly used in paints until it was banned in 1978. But if it was banned that long ago, why is there still a concern for lead poisoning? Because only lead in house paint was banned, you can still find this metal in art supplies, old water pipes, and dust. Children are the most susceptible to lead poisoning because not only are their brains and nervous systems still developing, but they often put things in their mouths, and these items might contain traces of lead on them.
Symptoms of lead poisoning include abdominal pain, constipation, headaches, irritability, fatigue, numbness or tingling, memory loss, and many others. In the case of high exposure, more severe symptoms can occur, requiring emergency care. Symptoms include vomiting, seizures, severe abdominal pain, and even going into a coma.
At Advantage Environmental Inc, our goal is to protect the public, and that is why we offer lead, mold, asbestos, and air testing for Vancouver and Portland home and business owners. Our technicians perform these tests quickly and provide you with accurate results so you can take the appropriate measures to keep your family safe.
Lead Paint In Homes
Lead was a prominent ingredient in paint until its use was banned in 1978. Homes built before this time are likely to have lead-based paint. Before the 1940s, nearly 87% of homes had lead-based paint, between 1960 and 1977, about 24%. Most people covered this with non-lead-based paint. And while this does help prevent exposure to the metal, it can be dangerous when the paint begins to chip or peel; this can be a major concern during remodels or demolitions. All of that lead-based paint would then be mixed into the dust, floating around in the air and settling on any surface in reach. If you own a home or building that was built before 1978, it is imperative to monitor the state of the paint.
Lead Based Paint Removal
There are a few methods of removing lead paint from a home or building, but the most important thing to remember is safety. One option that is appealing to many people is painting over the lead paint. Doing this is only an option if the old paint is not too damaged. There are paints manufactured specifically for use over lead-based paint; they create a sealant over the lead to prevent any harmful traces from making it to the surface. And while this option is useful for a quick fix, if there is a lot of lead paint, it is chipping and peeling, or you want the lead completely gone; other methods are going to be more effective.
The most effective method for lead paint removal is manually scraping it all off. There are special scaping tools designed to remove the first layer of paint without damaging the wood. During this process, the area that is being treated must be completely sealed off to prevent any lead dust from escaping to other areas. Personal protective equipment should also be worn, including coveralls, facemask, gloves, and goggles. This can be a long process, depending on how much lead paint is present. This method of removal is also called wet sanding because, throughout the entire process, water is continuously being sprayed on the work area to dampen the dust particles. Specialized HEPA vacuums are necessary for this type of work to ensure no harmful particles are left in the area.
Another option to remove lead paint is to use a liquid paint remover, which is applied to the top layer and chemically strips away the lead-based paint. After a few minutes, the thick layer of paint remover will begin to bubble and wrinkle, that is the sign that it is ready to be scraped off. Technicians will then scrape off all the paint remover and the lead-based paint along with it, properly disposing of these materials as hazardous waste. Once the lead paint has been completely removed, it is essential to clean and treat the surface with a solution to neutralize the chemical paint remover allowing the new coat of paint to go on smoothly and without complications.
For situations where there is an abundance of lead paint, or the material is too damaged, it might be necessary to remove the material and install new drywall, window trimmings, siding, or baseboard. This is the best way to ensure no traces of lead paint are left. For any lead abatement process, always adhere to the proper safety and containment precautions.
Lead In Drinking Water
Homes built before 1986 potentially have lead pipes installed for the plumbing. This can pose a major health concern if your drinking water is coming through lead pipes. As this piping gets older, more and more of the lead becomes corroded and enters the water. Children and pregnant women are especially vulnerable to lead poisoning through drinking water. Because children are smaller, they can begin to have symptoms of lead exposure with a much lower amount in their bloodstream compared to adults. Pregnant women and their fetuses who are exposed to lead-contaminated drinking water can suffer side effects. People of all sizes and ages are susceptible to lead poisoning if drinking contaminated water. And while bathing and cleaning with this water won't harm you, it is better to have this issue dealt with sooner than later.
Effects of Lead Exposure
Lead exposure can affect anyone, large, small, old, or young. And while children can show symptoms with less exposure than adults, the side effects can be damaging. Results from this can include slowed growth, hearing problems, anemia, and other developmental issues. Pregnant women exposed to lead can cause premature birth and reduced growth of the fetus. Lead exposure affects anyone regardless of age or pregnancy; adults with lead in their bloodstream can suffer from lower kidney functions, reproductive complications in both women and men, and cardiovascular issues, including high blood pressure.
Home Lead Test Kit
There are two different lead test kits that you can buy to test if there is lead present in your home or business. One kit is to test the water; the other kit is to test for lead paint. To test for lead in your water, you can purchase test kits online, or for more accurate results, you can contact Advantage Environmental Inc to have your water tested for traces of lead and other harmful contaminants. Lead paint test kits come with a swab that will turn red when it comes in contact with lead. Both of these test kits are simple and effective ways to determine if there is lead in throughout your property. If you are concerned about other areas of your home or business, give us a call, and our technicians will come and perform thorough testing. Our test results are quick and accurate, and we will usually have a report back within 24 hours for most local Vancouver cases.
Lead Paint Abatement
The lead abatement process is an extensive practice used to remove lead in a home or business; the people who do this need to be certified and follow EPA guidelines. Regardless of how the lead is being removed, whether the specialists are stripping the paint or demolishing walls, the proper safety precautions need to be followed.
There are four methods of containing and removing lead. Covering the lead paint with a specially formulated coating, building over the existing area with new products like covering lead-paint covered drywall with new drywall, completely stripping the surface and repainting it, and gutting and demolishing the affected area and rebuilding it with new materials.
During any lead abatement, the first step is always an inspection by a professional where they will run multiple tests to determine which areas contain lead and how severe the situation is. Once the inspection is complete, the lead abatement specialists will then decide on the best course of action, whether it will be safe to paint over or if demolition is necessary. If you are concerned about the presence of lead in your home or business, feel free to call Advantage Environment Inc today and have our specialists come out and run tests. When you need an environmental consultant in Portland or Vancouver, give us a call.